Shopping Around – Bank Charges
Different providers charge different levels of bank charges and often these can be the trigger for people to move around banks. Especially if you're with Ulster Bank who are shutting operations in the next few years, you will be looking for alternatives and bank charges will be a big factor in the one you should choose. Each bank have difference pros and cons with different features which are sure to suit everyone's needs. We will also add in whether they support contactless payment methods as they are ways of avoiding charges when using card. In this post, we will provide a rundown of each banks charges to give you the best understanding and the ultimate guide to help you make your next choice.
AIB
AIB charge less than others for maintence fees for the account but have many other bank charges for withdrawals and direct debits that add up. They charge a €4.50 quarterly maintenance fee, a €0.35 fee for every ATM withdrawal and €0.20 for chip and pin transactions as well as self service lodgements, online transactions and direct debits. Contactless transactions are free though and AIB support Apple, Google & FitBit Pay. AIB's student, graduate and over 66 accounts all offer free banking.
PTSB
Permanent TSB's Explore Account is the only account on the market that will pay you to use your card. There is a €6 montly maintenance fee though. Your day to day banking is free and you'll also earn €0.10 every time you use your debit card to pay for something in store on online. You can earn up to €5 a month with this feature, meaning you could almost pay the montly fee with the money you get back from the bank, which is nice! PTSB also have acquired Apple Pay in the last year and are promising Google Pay this coming year.
Bank of Ireland
BOI charge a flat €6 montly fee like Permanent TSB do for maintenance of the account. They are behind AIB when it comes to their app and online service but they do support Apple and Google Pay.
KBC
KBC holds a commitment to providing a customer-centric and digital-first strategy to their banking. KBC offer free banking once €2,000 has been deposited into the account each month. This is a lot simpler than it sounds as this can be achieved by simply moving money in and out or from other accounts to make up the €2,000 deposit. They are up to date with their technology which allows for payments without charges via Apple & Google Pay whilst also supporting many others such as FitBit Pay, Garmin Pay and Sony's Wena Pay. KBC are however a cashless bank and they do not offer cash facilities.
EBS  
EBS's MoneyManager Account has no monthly account maintenance fees and also no charge for day-to-day banking. There is no minimum monthly lodgement requirement either. But they really lag behind in terms of their service online and they are yet to support Apple, Google or FitBit Pay & they are without a mobile app. EBS seem years behind with technology also as if you change your phone/phone number they post you a new code which is a slow way of doing things in this day and age. Their sign up process is also very slow as it requires two visits to a branch.
New players in the market
N26
N26 is a very popular and digital alternative to banking. It is a licensed bank and operates all across the EU. N26 has a fantastic mobile app that supports Google and Apple Pay which helps for free of fee transactions. They do not charge a monthly fee and day-to-day transactions are completely free too. ATM withdrawals are limited though as you get 3 free a month and after that there is a hefty €2 charge per withdrawal. N26 cards are free from foreign exchange fees so you won't be charged €1.50 – 3.00% foreign exchange rate when spending in the UK or the States. They don't have branches so if you need to make a lodgement in person or cash in a cheque you'll be stuck.
Revolut
Revolut is similar to N26 with it being a digital based banking service. Revolut also offer free day to day banking. They don't charge a monthly or maintenance fee as well as no charge for pin or contactless payment. Revolut allows you to withdraw €200 a month or make 5 withdrawals, after that there'll be a €1 or a 2% charge, whatever is higher. Revolut also don't charge foreign fees like N26, which make it a great option when abroad.
Foreign Bank Charges
As this article is being written, nobody can travel abroad on holidays but those days will come again so we think it is important to highlight the amazing features of N26 & Revolut as a form of paying whilst in the UK or the States and so on. Here's what it would cost with each bank if you were to spend €500 in London to show the benefit of N26 & Revolut.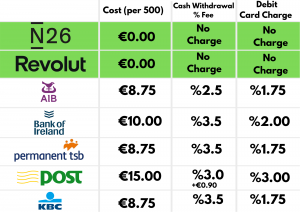 To use this table in an example, if you were in London for the weekend and were banking with AIB, each time you buy something over there on debit card you will get charged 1.75% of the euro cost, and when you withdraw from the ATM over there you will get charged 2.5% of the withdrawal, with both at a max of €11.43. Compare this to N26 & Revolut where there's no charges at all for withdrawing or buying with card, showing these are the best options for foreign charges.
Conclusions
Of course choosing a bank isn't solely based on the charges, but it is certainly one of the reasons. Each bank will carry their own charges so it is up to you to decide upon which one based on your needs. If you are someone that cashes cheques and deposits cash, than picking a free service like N26 just because it is free wouldn't make sense. We hope this guide has helped you decide what's best for you, with all things considered!