MBC Financial wins more awards
MBC Financial is delighted to announce that we have been awarded Cork Pension and Investment Broker 2021 by the All-Ireland Business Foundation and have maintained our Business All-Star Accreditation for the second year in a row – 2020 and 2021.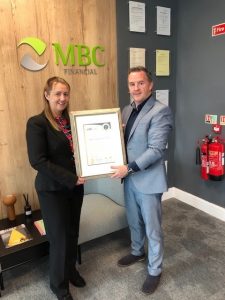 Our team has been very busy over the last 8 weeks working with the All- Ireland Business Foundation to maintain our Business All-Star Accreditation Certificate. This accreditation is an outstanding achievement and recognises the hard work and dedication of our team in providing a best in class service to all our clients.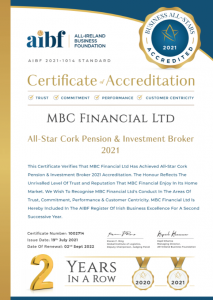 Business All-Star accredited companies are defined as; progressive, indigenous Irish businesses which meet the highest standards of verified Trust, Commitment, Performance and Customer Centricity. In maintaining this accreditation we continue to be part of an unique group of businesses and we believe this continues to demonstrate our commitment to improving our service to our clients and suppliers.
Contact Alan or Sarah today for your financial needs