Apple Pay, Google Pay and FitBit Pay Charges.
Contactless payment methods have been getting more popular as the years go on as its quick and secure. The only complaint it seemed was that there was a lack of acceptance of these methods for awhile. Apple, Google & FitBit all now offer their own version of contactless payment with phones and smart watches alike. Payments have never been quicker and easier. With the outbreak of COVID-19, there has been ever greater encouragement for contactless payment with the limits constantly rising. In this article we will examine which bank supports which payment type & whether or not there are charges that come with contactless payment through Apple, Google & FitBit Pay.
Which banks support these payments?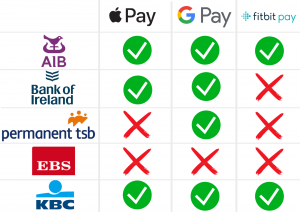 AIB and KBC are both front runners as they support all 3 of these payment types. Bank of Ireland are yet to introduce FitBit Pay whilst Permanent TSB have just Apple Pay for the time being but they have announced Google Pay in coming in 2021. EBS are far behind as they do not support any of the 3.
Are there charges?
Bankers in Ireland get charged enough fees as it is with banks so it will be refreshing to hear that these payment methods offer a far cheaper way of payment. Apple don't charge any fees, no annual or over the limit charges or foreign transactions. Google Pay & FitBit Pay also don't have any charges for transactions and offer a cost effective method or purchasing.